It is a well-known web-based platform that assists people in tracking down expert freelancers for their services. Fiverr offers numerous organizations to recruit individuals from various areas incorporating content writing, graphic designing, digital marketing, on-page, and off-page SEO, WordPress developers, and so on.
Also, there are numerous ways how to get clients on Fiverr that we will discuss below. The owners of businesses can look at the account of that hired individual and his feedback. The reviews on this platform assist the organization with selecting the best individuals on various levels.
 Likewise, it helps to coordinate organizations with their favored abilities and optimal rates. Businesses can also enhance their search for different work through seller-level accounts.
How to Create Fiverr Account in 2022?
Before the discussion of creating an account on Fiverr, it is essential to know that all the Fiverr accounts are buyer ones at first. The distinction between a seller and buyer account possibly happens when an individual starts to sell his services as a freelancer. Likewise, it permits people to make only one seller account at one time.
The proper steps to create an account on Fiverr in 2022 are as follows:
In the first step, you need to open the official homepage of Fiverr. After its homepage gets opened, press the join button.
The next step is to provide your professional email and press the continue button. You can also join through your Google and Facebook accounts if you want.
After that, selecting the best username is the next step. You must think carefully about a perfect username, as it cannot be changed after creating an account. Then, select a password for your account and press the join button.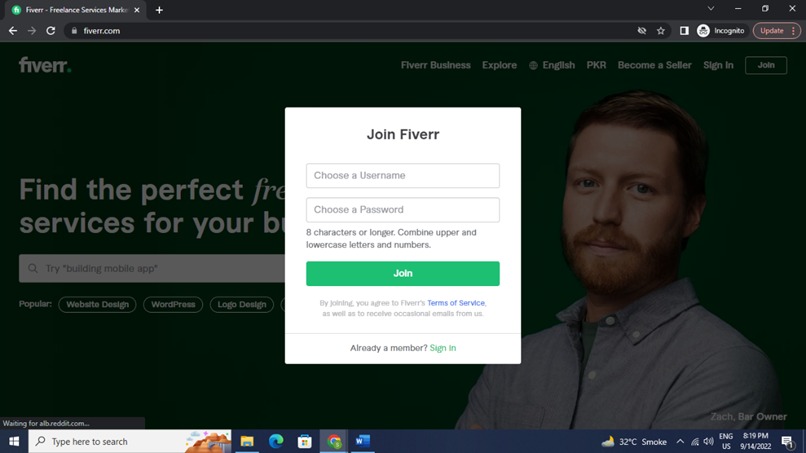 You will receive an email at your registered one as soon as you do this. You need to verify this email to verify your account.
Checklist for Fiverr Seller to Get Started:
A proper checklist for Fiverr sellers assists them in getting maximum clients. If you want any help regarding Fiverr, you can get this Fiverr course: https://devvratsingh.com/sp/ for clients.
All the details are mentioned below:
Sellers need to improve their English language by incorporating sentence structure, grammar, etc. They must ensure that their sentence structure is consistent with their interest group.
Sellers should remember that purchasers are on this platform because they want them to offer the best solutions. That's why try not to say that you are from a third nation. It leaves a good impact.
The seller must give a name to the buyers by which buyers would be happy while talking to them. Individuals feel weird while communicating with organizations.
Sellers should make one log line that represents them in the best way. They should stay away from any generalities.
Also, sellers must add an authentic image to their profiles. Kindly utilize a fantastic, top-notch quality image with their smiles. They should stay away from selfies if possible.
Likewise, sellers must be talking mainly about themselves while retaining their attention on how they can assist the buyers in solving their problems. Using "You" more than " I " positively impacts buyers. They must try to make a positive relationship with the buyers.
Sellers must focus on their gigs. There is a limit of seven gigs for new sellers, and they should try to make a total of 7. Also, replace or reexamine any gig when needed.
Sellers have an opportunity of 1200 characters accessible to them for their gig description. It is recommended to write a description of 1200 words.
Numerous Fiverr sellers suggest that new sellers should purchase gigs from different sellers. This makes it more straightforward for sellers to connect with the Purchaser's interests.
It is suggested that sellers set up a slide show of their portfolio pictures. Also, this is the best option if they can give a video of themselves talking straightforwardly to the purchaser. Their pictures must be private to them and the gig they are offering.
A practical method for getting started in sales is to ask loved ones, relatives, and individuals to purchase gigs from them.
Also, they can Utilize different platforms of social media to upload pictures consistently with the addition of their profile link.
Trending Gig Categories on Fiver:
The demand for freelancers throughout the world keeps on developing. Fiverr characterizes independent experts as those who procure their pay beyond conventional work. Also, people who don't utilize others and offer innovative services.
Some trending gig categories on Fiverr are:
Manager of Social Media Content:
Many companies continually need experts in social media to make content for their YouTube channels, Instagram, Pinterest, and so on to guarantee they are developing associations with their customers. Moreover, these experts charge somewhere in the range of 5 dollars to 2,100 dollars for their bundles on the website.
NFT Art:
The universe of NFTs has expanded throughout the last year. Usually, organizations are attempting to perceive the ways of getting success in this field and how they can ensure they are not abandoned. They might succeed by employing self-employed entities to assist them with making their one-of-a-kind resources.
Making Logistic Website:
It is the one that assists organizations with monitoring transportation and cargo to observe when their item shipments might show up, what their conveyance expenses could be, etc.
With countless such disturbances to the worldwide supply chain throughout recent years, organizations planning to develop these logistic websites might desire to acquire how they can convey their items effectively.
Creating Promotional Video Ads:
Organizations continuously search for the most effective methods to reach their customers across web-based platforms such as Twitter, Facebook, etc. Video promotions made explicitly for these different platforms assist them with doing that.
Experts who provide this assistance, such as scriptwriting, editing, and voice-overs, charge somewhere in the range of 5 dollars to 1,200 dollars.
Steps to Create a Gig:
Most importantly, people should comprehend the definition of a Gig. In essential words, a Gig is a service given by freelancers. After signing in and completing the profile, now is the right time to make their primary gig. Also, it is a set of services offered to buyers. Every gig expects sellers to provide essential data regarding their services.
Step 1: Making a Gig
At the point when sellers click on create a new gig, the "overview" section will appear first. In this, sellers need to give info of Gig title, category, and search tags.
Step 2: Pricing
This section contains pricing for your offered services. These pricing packages permit dealers to associate a fundamental gig with revisions and additional items to provide purchasers with what they need.
In this section:
You have to provide a proper title in the section "name your package." If you select to utilize 3 segments, provide everyone a particular name.
Depict the services you want to provide purchasers and pick the time for delivering services. This time must be consistent.
Pick how many revisions you can give the purchaser and the total cost for each part.
You can decide to incorporate additional services or discard them.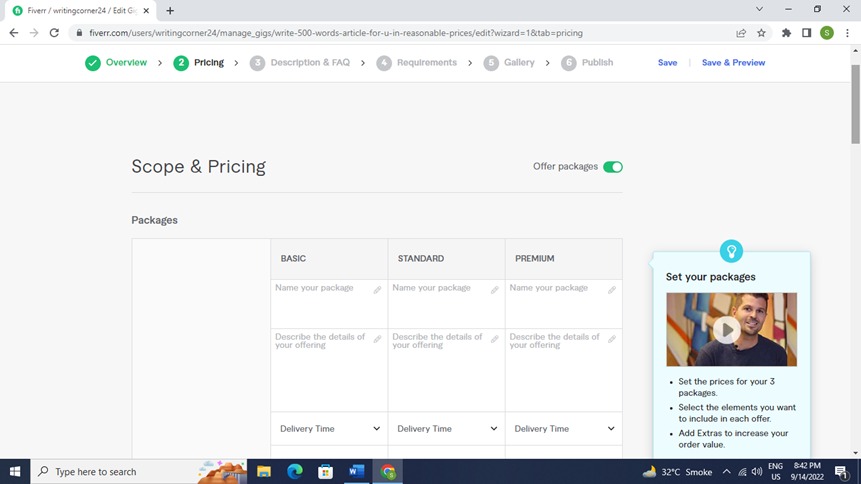 Step 3: Description and FAQs
You have to describe the gig most professionally. After that, complete the FAQ section by responding to questions that purchasers might ask regarding your services.
Step 4: Requirements
In the requirements part, finish up what you desire that the purchaser should give in detail before you start the task.
Step 5: Photo Gallery
In the photo gallery section, upload pictures or recordings that are related to the gig made by you. For this, sellers can install free photographs or make a video for the promotion of their gig.
Step 6: Publish
At the point when sellers are finished filling all the gig data, and they are all certain it looks great, then they can finally publish their gig. When they publish, the buyers can see that gig on Fiverr.
How to Get Clients on Fiverr?
Fiverr is a great platform to sell your services according to your skills and interests. But getting the clients can be a challenging task. However, here are some tips and tricks that will assist you in getting clients on this online platform.
Promotion on Social Media Platforms:
One of the most widely recognized methods for getting clients on Fiverr is simply the promotion of your gigs via various social media platforms. It will help boost sales and is an effective technique for tracking new clients.
It is an easy yet strong way that anybody can apply, regardless of their seller account level. Some can get results quickly, while others could require additional time to get clients.
Using Best Pictures for Gigs:
A decent picture will impact the clicks you get on your profile. With the increase of clicks on a profile, the gig will automatically rank and can be accessible to a more significant number of people. The sort of gig pictures indeed relies upon the services the seller provides.
Appealing and exciting photos capture the clients' attention and intrigue them to examine more if a gig is created with proper attention, the chance of getting the clients increases.
Focus on Gig Description:
An inadequately phrased description of a gig won't just cause you to show up less trustworthy, yet it won't be enjoyable for most individuals who want to hire someone. A gig description should be without any spelling and grammar mistakes.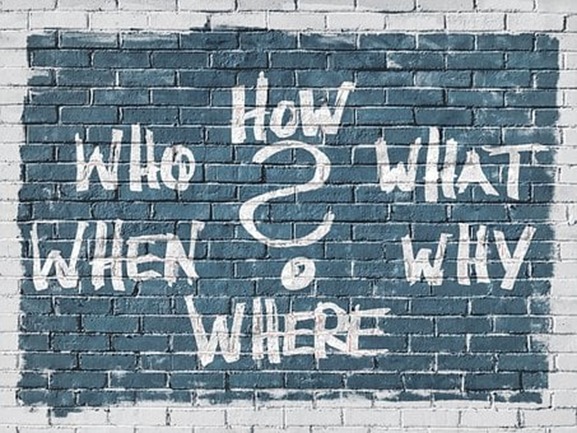 It is the first impression of a person's profile. There are great chances of clients hiring those people whose data is introduced to them accurately, which is the general purpose of having the best gig description. Also, if you want further information regarding Fiverr, you can get the complete Fiverr course  https://devvratsingh.com/sp/.
Use of Proper Tags:
The accurate tags empower the clients to discover your gigs without effort when they enter proper keywords. These tags should be according to the services offered to clients.
The wrong tag can result in no clients to your profile because your gig will not appear to them. This is why the tags are a crucial part that cannot be taken for granted if you want to get clients.
Developing Trust with Buyers:
To develop an incredible trust with the buyers, you should provide them with a service that urges them to return to you. When you build trust with a couple of buyers, you must figure out how to hold them. It is incredibly challenging to keep on getting new clients every other day.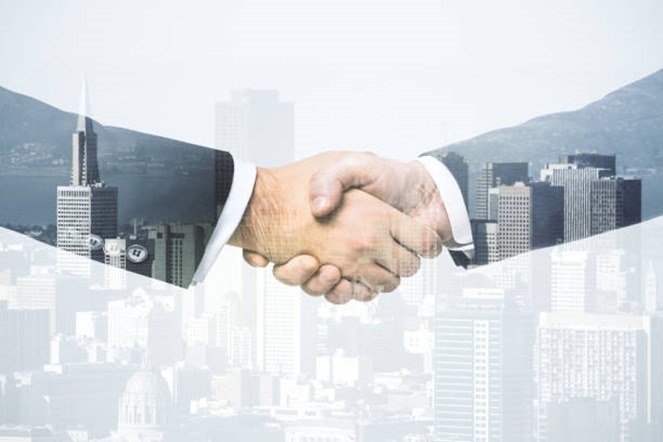 That's why you should keep those clients you have worked with previously to produce more income, reviews, and popularity. The most effective method is always to communicate correctly with your buyers.
You should consistently update your clients regarding the project you are working on. Tell them they can continuously ask for any inquiries and stay as connected as expected.
On-time Delivery:
It would help if you took only that work regarding which you are sure that you can complete it on time. It is enticing to set your delivery time to just one day or even less than that to retain clients' attention. Although it is ideal for taking some extra time for your delivery in case something unfortunate happens.
If you deliver your work more accessible than the deadline, it will help you get regular clients. Being reliably late with deadliness leads you to bad reviews on your profile or even order cancellation, which is a disaster.
Sending Buyer Requests:
At Fiverr, there is an option for buyer requests in which the clients post about the services they need. It would help if you tried to stay active and respond quickly to those requests according to your skills, and you are sure to do it. By responding to that buyer's requests, there is more chance of getting the clients.
Conclusion:
A person needs to take care of a few things discussed already. I hope this blog on How to get clients on Fiverr can be helpful for you. Also, this Fiverr course https://devvratsingh.com/sp/ has everything in detail to help you get clients. You need to make a Fiver account by following the proper steps and providing accurate and precise information regarding the services you offer to buyers.