For those people who have a great interest in freelancing, these two platforms known as Upwork and Fiverr are considered the best ones. These two platforms are the main websites to help freelancers sell their services. We would discuss below in detail which is better for you Fiverr and Upwork. So, just keep reading it for further information.
Also, if you are a buyer and looking for someone to getting your tasks complete as per your requirements, these platforms are for you. While numerous businesses are investigating the advantages of freelancers, the majority of employers do not have an idea of where to search for the right ability. So, let's dive into it to discuss it further.
How Do Upwork and Fiverr Operate in a Different Manner?
Although both of these platforms provide a simpler and easier way to communicate with sellers, there are some differences between them that you should be aware of.
If talk about Upwork, it is a site that is extremely simple to utilize and retains capable freelancers from all around the world. Approximately ten million individuals are enrolled on Upwork and are selling their services.
Now, considering Fiverr is a site intended for managers who have fast, minimal-expense tasks they want to get completed. Also, it is incredible for tracking down gig freelancers as per your budget.
Major Differences between Fiverr and Upwork:
Although both sites are widely used by freelance throughout the world, some differences exist in their functioning. Let's have a look at those differences below:
Work Management:
Both of these websites vary in work management. Fiverr permits individuals to offer a diverse range of services immediately. While on Upwork, individuals bid for particular tasks by sending a cover letter to buyers as per their needs.
Also, the buyers buy specific services on Fiverr that an individual has already explained. One noteworthy element of Upwork is that it accompanies data science incorporated into the site.
It implies that the site Upwork can find skilled people as per your requirements relying upon its algorithm which in turn is very time-saving to choose from a diversity of individuals.
Pricing Differences:
The pricing will constantly be a point of attention regardless of what you are recruiting for. These two platforms earn cash by taking money from every order of the freelancers. But their costs fluctuate from each other.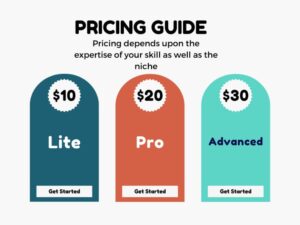 Talking about Upwork, individuals set a price and bid by the task or can charge per hour. and this site deducts some money from each task.
Considering Fiverr likewise charges money from the seller as well as the buyer. The purchaser needs to give money in advance for the gig they desire to purchase.
Work Quality of Individuals:
The most basic part of hiring skilled individuals is ensuring the work quality provided by them to you. Notwithstanding, there are numerous distinctions in the way you seek and characterize possible freelancers.
Let's talk about Upwork first. You can look for the abilities you want by selecting a specific domain and then going to the profile of a freelancer with those skills.
If talk about Fiverr, it likewise permits you to look for abilities by searching for a specific keyword of your required task.
Something phenomenal about Fiverr is the data you acquire after clicking on a gig of a seller. You can just go through different gigs and hire one according to your skills.
Monitoring Tools:
Monitoring tools are one other aspect you must look for in any of the freelancing sites. Let's see the difference between these between both sites.
Considering Upwork permits you to arrange your whole task through its site, with the best correspondence between the buyer and the seller.
Also, you can set milestones on Upwork for a specific project and ensure you pay when a task is finished.
Upwork likewise separates itself with an astounding dispute resolution to solve any kind of issues addressed by the freelancers of the buyers.
Let's talk about Fiverr. It does not have similar monitoring tools like Upwork However when the sellers and buyers follow everything properly according to the site's rules, then there will be no hassle.
But the buyers can continuously contact the freelancer with a fast message if he has any desire to look at the situation of their task.
Rating Options:
Freelancing platforms are all about giving money to someone you do not know personally. That is the reason both sites, Fiverr and Upwork provide options for rating to assist you with getting knowledge from buyers that take services from them. This rating system will be helpful for buyers and sellers.
For sellers, it will improve their profiles and increase the chances of getting maximum orders in the future.
For the buyers, it would be significant because they will gain insight that they are awarding a project to the right one. Also, if any profile has negative reviews or ratings, the buyer's money will be saved.
Payment Timings:
One of the significant differences between the two sites is their payment timings. As the payment timings matter a lot for a freelancer, let's talk about these two:
On Fiverr, it takes around 15 days to get your payment after which it is ready to withdraw in your bank accounts.
But considering Upwork, it required zero days to get your payment.
Upwork Project Catalog:
The Upwork project catalog is where you allow customers to arrive at them. At the point when you make a task, it shows as a posting that clients can click to find out more.
Also, the clients track down you by looking for the abilities and services provided by you. In case you are professional in your domain then this catalog allows you to let your work proceed further via counsel.
The consultations to direct clients and create strong associations are top rated, rising ability, and top-rated plus.
Which one to Choose from Upwork or Fiverr?
Picking from these two will be an individual choice relying upon their special requirements. However, for most organizations, Upwork will be the best choice for bigger tasks or jobs that need the information and understanding of a freelancer.
But in the case that you are only searching for somebody to deal with something basic, then, at that point, Fiverr could be an extraordinary money-saving platform.
Advantages of Fiverr:
Easy-to-use platform
Provides a quick approach to getting buyers
Provides services at reasonable rates
Remarkably active freelancing site
Advantages of Upwork:
No forthright expenses are essential
Incredible for explicit, expert help
A huge worldwide ability platform
Command over the screening and hiring procedure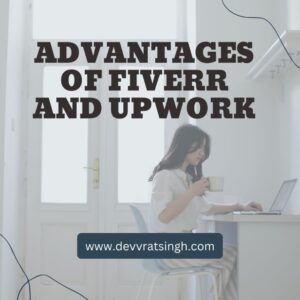 Conclusion:
I hope that the information discussed earlier in detail might be helpful for you in getting insight into these two freelancing sites. You can now choose one depending on your requirements. Buy in my opinion, Fiverr is the best one to sell your services. If you are interested to know more about Fiverr, then you need to go for  https://devvratsingh.com/sp/.