How Much Time Does It Take to Get Payment in India from Fiverr? Freelancers from India now have the opportunity of acquiring more and more orders worldwide. Among those platforms, Fiverr is the most popular one. It is a well-known platform where individuals can acquire numerous tasks according to their skills from buyers looking for their abilities. For all freelancers, this platform has no fee for signing up.
They can list their expertise and services in the gigs. After completing and submitting a project, it deducts some percentage from their income. At Fiverr, freelancers need to make a profile and different gigs. And afterward, interested agencies or buyers can search and contact them as per their requirements. Once an individual gets any order, he will be informed by Fiverr.
How to Make A Gigs?
The services that are presented by the freelancers on this Fiverr platform are known as Fiverr gigs. The cost for these gigs differs from 5 dollars to 10,000 dollars. Although the price of numerous gigs is just 5 dollars, there is generally an upsell for services of top-notch quality.
       

At present, many digital services are gaining popularity. That's why the cost of these gigs is more.

       

With time, the offered services presented on this platform have additionally expanded. While there might be a few gigs accessible for five dollars.
How Orders are Taken on Gigs?
On this platform, getting 1st orders can be a challenging task for freelancers. For sure, this is more challenging in recent times with the enhancement of sellers on Fiverr. When it comes to how orders are taken on this platform, there are 2 types of orders taken by freelancers.
       

Custom Order

       

Direct Order
How to Get A Order From Custom Order on Fiverr:
The custom order is placed by the purchaser when a few of the buyer's necessities are not the same as mentioned in your gig yet buyers want your services for the task.
The custom order permits purchasers to contact freelancers about all the explanations regarding their projects. This furnishes freelancers with important data and gives them the capacity to give purchasers a custom order depending on their explanations.
Ø  For setting a custom order, go to the selling menu and gigs. After going to the My gigs page, in the fields of accepting custom orders, there is an option to activate or deactivate.
Ø  If you want to give a response to a custom order, open a message in your inbox. In the case that this feature is used by the purchaser, you just need to press create an offer button.
Direct Order:
The order placed by a purchaser directly by purchasing any of the gigs of the seller is called direct order. This kind of order means to place an order without any discussion with the seller. It implies that a buyer enjoys your gigs and gives you order directly.
What are the Best Payment Methods for Fiverr in India?
After your order gets delivered and accepted by the buyer, now is the time to get your payment. As soon as the payment gets released that order, is automatically reflected in your Fiverr balance.
       

Depending upon the order's value, TDS gets deducted as a source in between 1-5 persons. This TDS is only applicable to Indian freelancers.

       

For example, for 100 dollars amount, 21-25 dollars TDS get deducted.

       

After this TDS and the Fiverr commission from your order get deducted, the remaining amount just goes to your

personal balance

and is ready for withdrawal.

       

From Fiverr personal balance, it takes almost 5-7 business days to reach the payment directly to you.
How Much Time Does It Take to Get Payment From Escrow Account:
How Much Time Does It Take to Get Payment from Escrow Account? This is one of the methods to get your payment in India. Let's dive into some details to further discuss how payments work in an escrow account. It is a method through which Fiverr guarantees purchasers that its framework is the best and most reliable.
Ø  After the completion of an order, the payment is saved in the escrow account for a time of fourteen days. It is that period inside which purchasers can demand a refund if he did not get satisfied with the services provided by the seller.
Ø   Although assuming that there is no such demand from the purchaser side regarding your order, the payment is directly delivered to the account of the seller.
How to Get Payment From Express Account:
It is also one of the payment methods to get your payment in India. Your payment for a particular order gets cleared in a period of approximately 15 days in your express account.
       

As soon as you get your payment in your express account, it is ready to withdraw. From an express account, you can get your payment immediately within a minute.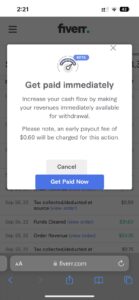 How to Get Payment From PayPal Account:
How Much Time Does It Take to Get Payment in India from Fiverr? You can also get your payment in your PayPal account. If you want to get your payment with this option, go to the withdraw option and then click PayPal.
       

You will get a notification and also an email. You just have to click on that email to begin the process of withdrawal.

       

You do not have to pay any fee while withdrawing from this option. The least money you can withdraw from this is just one dollar.

       

It takes almost 5-7 business days to reach your payment in PayPal.
How to Get Payment From Payoneer:
How Much Time Does It Take to Get Payment from Payoneer? It is one of the best payment methods you should use for withdrawing your payment directly in your bank account. There are no charges for processing the withdrawal process. However, for withdrawing, it takes one dollar at every transaction.
       

Generally, it takes 4-5 business days to reach your payment from Payoneer directly to your bank account in India.
Pro-Tips for your Withdrawal Your Payments:
How Much Time Does It Take to Get Payment in India from Fiverr? Some great tips are mentioned below to assist you with getting your payment without any hustles. You need to follow this if you do not want any problems in your withdrawal process.
Ø  Try to not process your payment on Fridays. As the weekend are off in international countries, so it will additionally take 4 days to reach your payment.
Ø  Monday to Thursday are the highly recommended days to start your withdrawal process.
Ø  The most recommended method to choose for your payment is the Payoneer. It is because it takes three dollars at every transaction and gives a better rate than other payment methods.
Conclusion:
All the details regarding recommended payment methods for India are discussed earlier in the blog. Also, the most recommended method for getting your payments is via Payoneer. In the case, if you face any issues while withdrawing or getting your payments, you can contact for help on this platform.